Artistic performance
On the occasion of this anniversary day, the Breton graphic designer Géraldine Ortega performed an artistic performance on part of the premises of Dalmard Marine with several paintings on the themes of the travel diary and the sea.
Exceptional shooting
The day of September 9 started with an exceptional shooting bringing together 12 local ambassadors, who have already worn the brand's clothes during previous shoots. The ambassadors met at the beginning of the afternoon on the "Nébuleuse", a former tuna boat over 70 years old installed for the occasion in front of the buildings of Dalmard Marine. The brand's iconic pea-coat was also the star of this shoot : in green, red, navy blue, sky blue, short, long, fitted, straight... all our models were featured.
Thanks to Catherine, Bruno, Martine, Franck-Olivier, Frank, Marie, Marine, Sonia, Julie, Adrien and the two Daniels, for their participation and their good humor during this shoot !
Truely a moment of pleasure. (Marine)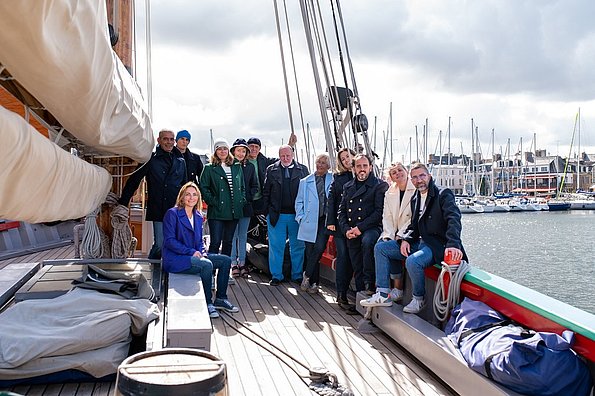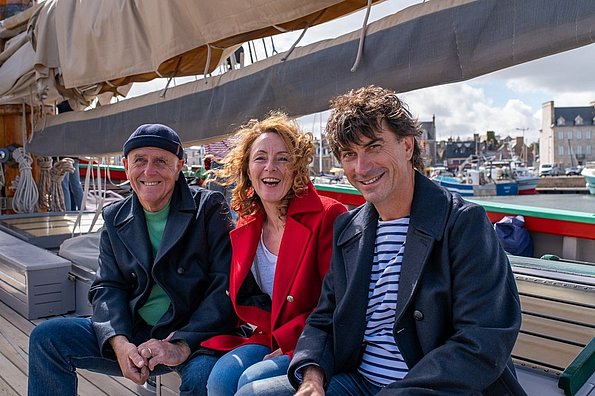 Visits full of exceptional moments
In parallel with the organization of a press conference, around forty people were able to discover the new concept of the Dalmard Marine workshop with two members of the team, Sophie and Hervé, as well as the history of the "Nébuleuse" with Cedric Lagrifoul.
These visits rich in interactions were an opportunity for the guests to find out more about the pea-coat recycling program and the textile personalization service as well as about a long-standing partner of Dalmard Marine, Voiles & Traditions, which offers excursions and seminars at sea.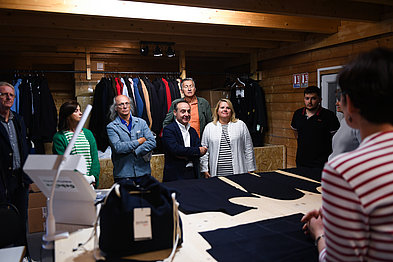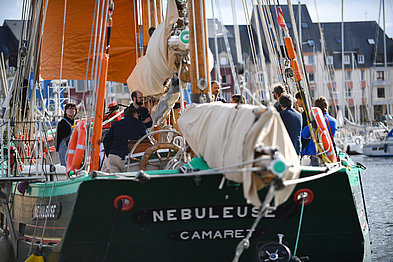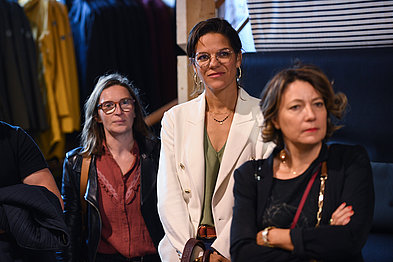 Celebrating 100 years of a French family business doesn't happen often ! Evolve with the times, keep its values, maintain its roots in Brittany. (Julie)
Birthday evening
The day ended with a cocktail reception organized at the restaurant La Cabane sur les Quais, next to the premises of Dalmard Marine in the port of Paimpol.
« It is a real honour to celebrate together the first centenary of our family company ». It is in this way that Maxime Dalmard, who took the lead of the company in 2017, launched the anniversary evening with a speech of thanks sprinkled with anecdotes returning to the key stages of the Dalmard house. He proposed to the guests to deposit a testimony, a memory or a photo in a time capsule made available to them. Future generations will discover it in 50 years.
Later in the evening, Maxime Dalmard and two of his brothers Guillaume and Julien offered the guests a cappella Breton songs that they have been singing since they were very young.
Even centenarians, the Dalmards still have energy !!! (Laurent)
The evening was brilliant, at the top !! An evening that is convivial, elegant and warm… in your image ! It was really very nice ! We had great encounters (Sonia)