The identity of the Breton territory
The Federation of Tourist Offices of Brittany has launched the first edition of the Week of Economic Tourism and know-how from October 25th to 31st, 2021. The objective of this week: to make (re)discover to the inhabitants of the territory and tourists the local businesses that forge the identity of the Breton territory.
Anyone wishing to participate in this week can register for the visit of the desired company, to discover its know-how, its products and its innovations.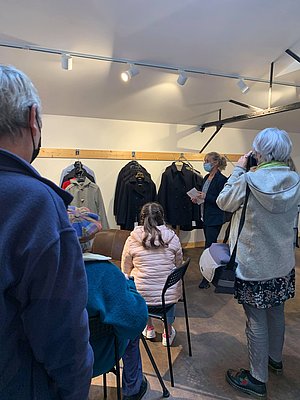 The hidden side of the red and blue house
Requested by the Guingamp – Baie de Paimpol Tourist Office, Dalmard Marine welcomed a few participants to its crew on October 25th 2021 to show them the hidden side of the red and blue building on the port of Paimpol.
Embarking on the adventure of Dalmard Marine, the participants were able to discover the history and characteristics of the real pea coat in woollen cloth in the showroom. The visit continued with the storage space of the factory where the different models are stored, then with the shipping department, in charge of sending e-commerce orders and supplying the different points of sale. And finally, the visit ended with the Dalmard Marine workshop, which opened its doors in May 2021. This place is intended for the recycling of pea coats, the making of unique accessories and the personalization of clothing for individuals and professionals.