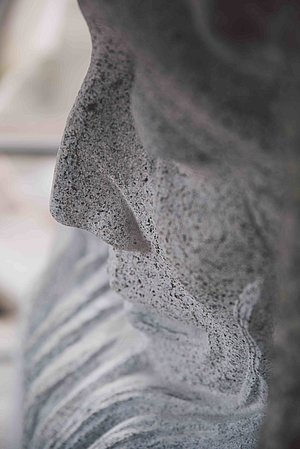 Saint Piran, 100th Giant of "La Traversée des Saints"
On May 5, 2018, the 100th Giant of the Valley of the Saints will start the Falmouth (Cornwall British) first stop in Paimpol on May 12, followed by numerous stops to Carnoët (Brittany) to celebrate the 10th anniversary from "La Vallée des Saints" (July 26 to 29).
"La Traversée des Géants" and Dalmard Marine share common values: the attachment to Brittany, the promotion of heritage, openness to the world and their long-term vision. Indeed, if "La Vallée des Saints" aims to implant 1000 monumental sculptures, Dalmard Marine will celebrate its centenary in 2022.
A limited edition Breton shirt "The Giants' Crossing"
For "The Giants' Crossing", Dalmard Marine designed a limited edition Breton shirt for the benefit of the association and its Breton collective project. Unisex, navy / ecru and offered in several sizes (from 1 year to XXL), the Breton shirt "The Giant's Crossing" will wear on the chest an elegant, sober and discreet weaving with the logo.
Dalmard Marine has also designed a Breton shirt "La Vallée des Saints" in other colors (ecru / navy, ecru / persian red, ecru / royal blue).
These Breton shirt will be on sale May 5 and 6 in Falmouth, May 12 at the first stopover of Saint Piran in Paimpol and from May 13 at "La Vallée des Saints" shop.